PAST SHOWS & EVENTS
The following is a listing past of shows and events relevant to the NYC writing community.
The most recent submissions are at the top. PLEASE SCROLL DOWN, because submissions are posted as we receive them, so they may not be in chronological order
Posting date: 7/24/08


---
Brighton University, East Sussex, England: July 4, 2008

MARE 139 FREESTYLE ARCHITYPER

mare139.com


---
Staten Island, New York: Saturday, June 14, 2008

THE ALL CITY BLACKBOOK SHOW


---
Rally to save the Art of the Peoples Wall

ON SATURDAY MAY 24, 2008 FROM 3:00 PM - 5:00 PM GRAFFITI ARTIST FOR A POSITIVE CAUSE and JAMESTOP PRODUCTIONS, WILL HOST A RALLY TO SAVE THE PEOPLES WALL OF 147th. STREET.

THE PEOPLES WALL IS A GRAFFITI STYLE MULTI MOTIVATIONAL MESSAGE TO THE COMMUNITY OF HARLEM. ESTABLISHES IN 1999 THE WALL IS LOCATED @ 147TH. BETWEEN FREDRICK DOUGLAS BLVD. and ADAM CLAYTON POWELL BLVD.,

IT FEATURES THE WORLDS LARGEST PORTRAIT'S OF MUHAMMAD ALI and MALCOLM X. THE GENERAL PUBLIC IS URGED TO JOIN GRAFFITI ARTIST FOR A POSITIVE CAUSE & JAMESTOP PRODUCTIONS IN THIS RALLY TO STOP COMMERCIAL DEVELOPERS and HELP SAVE THIS HARLEM ART LANDMARK

REFRESHMENTS and FOOD TO BE SERVED AFTER RALLY
MORE INFO/MEDIA 917-361-5483 OR jamestop2007@yahoo.com
---
NYC: Call for artists
ASPCA

I am an Art Director for Pyper Paul + Kenney, ad agency for the ASPCA: www.aspca.org We are currently working on a Spay and Neuter Campaign in New York City, covering all five boroughs. Our targets are inner-city minorities that own large breeds (Pit Bulls, Rottweilers, etc.). We have come up with a concept that includes the work of popular graffiti artists. Anyone interested would be asked contact us and submit a portfolio/samples.

The ASPCA is willing to put a significant PR push behind this initiative. I see them renting a gallery in New York OR, do street painting in Union Square Park OR, in the subway. Plus, we will be having a huge media event to launch. Bios of all participating artists will be featured on the ASPCA website.

We will be buying media all over New York City where the art will be featured. The graffiti campaign is a natural for bus sides, the subway and outdoor...

I know that the ASPCA will be replacing the banners hanging outside on their 92nd street headquarters (Upper East Side) which is right across the street from a housing project. We can even wrap the building if we want to.

This is a great opportunity for artists to "legally" have their work appear in the NYC streets, gain recognition and show their skills to the world.

I look forward to hearing from you and please let me know if you have any questions; my contact information is below.

P.S. Dog lovers only!... Help us out, pass it on!

Thank you,
v Benjamin Day
Senior Art Director
PPK

bday@pyperpaul.com
---
Brooklyn, New York: March 21st - April 20th, 2008 HOT Exhibition!!

LADY PINK AND AIKO

Ad Hoc Art proudly presents...
Brick Ladies of NYC
LADY PINK and AIKO

LADY PINK was born in Ecuador, but raised in NYC. In 1979 she started writing graffiti and soon was well known as the only female capable of competing with the boys in the graffiti subculture. Pink painted subway trains from the years 1979-1985. She is considered a cult figure in the hip-hop subculture since the release of the motion picture "Wild Style" in 1982, in which she had a starring role. While still in high school she was already exhibiting paintings in art galleries, and at the age of 21 had her first solo show at the Moore College of Art. As a leading participant in the rise of graffiti-based art, Lady Pink's canvases have entered important art collections such as those of the Whitney Museum, the MET in New York City, the Brooklyn Museum and the Groningen Museum of Holland. She has established herself in the fine arts world, and her paintings are highly prized by collectors. Lady Pink continues to mature as an artist, producing ambitious murals commissioned for businesses and creating new paintings on canvas that express her unique personal vision. Lady Pink recently starred in a documentary film (along with Lee Quinones, Zephyr and Futura 2000) entitled Spraymasters, which recently had it's world premiere at the Museum of Modern Art (MoMA) in Manhattan. She will also will be taking part in an exhibition at the Bronx Museum almost simultaneously with her show here at Ad Hoc Art in Brooklyn and has a vinyl figure coming out through Kid Robot in May of 2008.

Aiko was born in Tokyo and currently resides in NYC. Since powerfully breaking out on the fine art scene she has exhibited in such galleries as Merry Karnowsky (Los Angeles), Lineage Gallery (Philadelphia), New Image Art Gallery (Los Angeles), Iguapop Gallery (Spain), Revelations (Tokyo),and Leonard Street Gallery (London). Being an immigrant from Japan, Aiko has herself been discovering Americana-type pop imagery and then re-creating it in new and innovative ways. Aiko's work walks that thin, fragile tightrope between acceptance and disdain, beauty and danger, unconsciously mirroring the day to day life of your average Brooklyn resident. Aiko has a vinyl figure coming out through Kid Robot almost simultaneously with her show here at Ad Hoc Art in Brooklyn. She has also been selected to be on a panel at the Brooklyn Museum in conjunction with the upcoming Takashi Murakami Exhibition.
49 Bogart Street
Buzzer 22, Unit 1G
Brooklyn, NY 11206
Tel: 718.366.2466
Fax: 866.599.7270
HOURS Ad Hoc Art is open Wednesday through Sunday, 1PM til 8PM, and by appointment. www.adhocart.org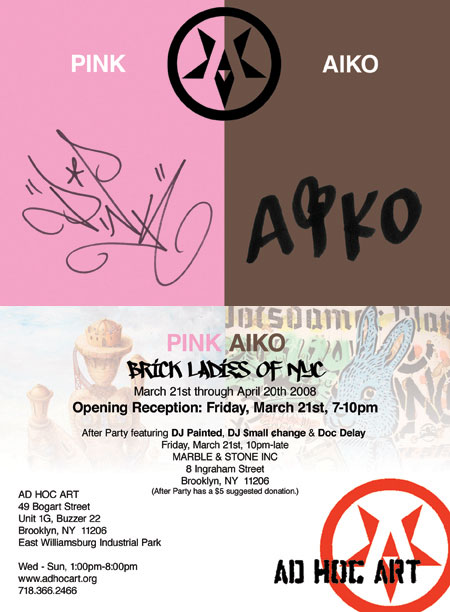 ---
TONY SILVER (STYLE WARS FILMMAKER) RIP

Thank you Tony, for your respect, your intellect and all that you gave to all of us.
We extend our condolences to the family and friends of Mr. Silver. He will be missed.
--@149st
---
Tony Silver Obituary
Tony Silver, award-winning documentary filmmaker, died of cancer at his home in Los Angeles on February 1, 2008. He was 72. He grew up in and around New York City and was a Ford Foundation scholar at Columbia University.

Mr. Silver was best known as the director and co-producer of Style Wars. The film chronicled the young artists of the graffiti subculture and the early stages of the New York City Hip Hop scene in the early 1980s. Mr. Silver recognized and captured on film the excitement of a new era of urban art and life. The film, a PBS special which won the Grand Prize for Documentaries at Sundance in 1984, celebrated its 20th anniversary re-release to continued acclaim at the Tribeca and Edinburgh Film Festivals. It continues to resonate throughout the worldwide rap and hip hop community as the most important film to capture the original spirit and vitality as it emerged from New York's subways, streets and playgrounds into world consciousness.

His most recent feature documentary film, Marshall Arisman: Facing the Audience, depicts the life and artistic process of the celebrated painter and illustrator. It received the Santa Barbara International Film Festival's prize for Creative and Artistic Achievement. Among his other films are Anita Ellis For the Record (1980), which captures the final recording session of a legendary jazz-pop artist; 30 Seconds At A Time, exploring a company's response to employees who are victims of domestic violence; All You Can Be, about the Nursing Program of New York Hospital; and (Out)Law and Order (2005), chronicling a new conflict-resolution program integrating drama, language arts and social studies in Los Angeles middle schools.

Mr. Silver enjoyed a successful career creating theatrical and TV trailers, main titles, special effects and other marketing materials for motion pictures and home entertainment. He won a Clio for the trailer for Oliver Stone's Platoon and many other creative awards for films such as Wings of the Dove, The People vs. Larry Flynt, A Map of the World, Alien, The Shadow, Tribeca, Resurrection, and many others. He directed commercials for IBM, American Airlines, General Motors and the Bronx Zoo.

Mr. Silver served on panels at the National Endowment for the Arts, National Endowment for the Humanities and Corporation for Public Broadcasting. He lectured at universities, colleges and museums across the country. He was a member of the International Documentary Association, the Academy of Motion Picture Arts and Sciences, the Directors Guild of America and the Scenic and Title Artists Union.

He is survived by his wife, Lisa Citron of Los Angeles, daughters Nini Silver of Milton, Massachusetts and Mariko Silver of Scottsdale Arizona, sister Jeanne Silver Frankl of Amagansett, New York, step-daughter, Meghan Tate, and his grandchildren: Duncan Saul Macdonald, and Lily and Niccolo Tate.

In lieu of flowers, the family requests donations be sent to the non-profit organization, (Out)Laws and Justice, at www.outlawsandjustice.org.


---
NEW BOOK: FUZZ ONE LAST OF THE OLD SCHOOL

FUZZ ONE takes readers on another adventure through New York City during the 1970s. Last of the Old School picks up on where A Bronx Childhood left off. An amazing read for all those craving for tales of old school New York City writing. Just as FUZZ was a prolific bomber he is proving to be a prolific author. He is currently working on a third book.

To purchase this book please send a check or money order to:
Vincent Fedorchak at P.O BOX 111 Port Jervis N.Y. 12771 Deliveries in the U.S. total $40.00 for shipping and handling. For orders outside of the U.S. total $50.00.
ALL BOOKS WILL BE SIGNED BY AUTHOR. Author also includes original graffiti pieces in each order.
Please contact FUZZ ONE at djfuzzone@yahoo.comto place your order.

For more information visit WWW.MYSPACE.COM/FUZZONE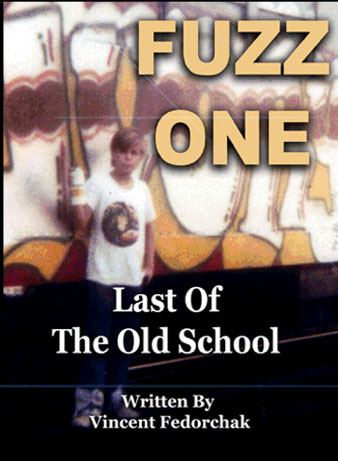 ---
New York City: February 22nd, 2008

JAMESTOP EXHIBITION: AFROLOGY

James Top will debut his first solo exhibit, Afrology on Friday, February 22nd, 2008, 6pm-Midnight. The exhibit consists of seventeen variations of the 1970's hairstyle, the "Afro", filled with humorous and serious messages about being an African American man through the eyes of James Top.

James Top is a fantastic New York City train muralist who has converted his massive art pieces onto canvas for prestigious exhibits all over the world. Today, he is teaching a very controversial graffiti class at Hostos College in the Bronx. Although James is currently the subject of a county-wide debate on teaching "illegal" art, he is successfully pushing forward on executing his first solo exhibit in New York City.

Afrology will also serve as an example to young aspiring artists, proving that graffiti art can be legal, well-received and above all, respected.

On Friday, February 22, 2008 please come by the Essex Street Gallery, located on 27 1/2 Essex Street, to view Afrology from 6pm to Midnight.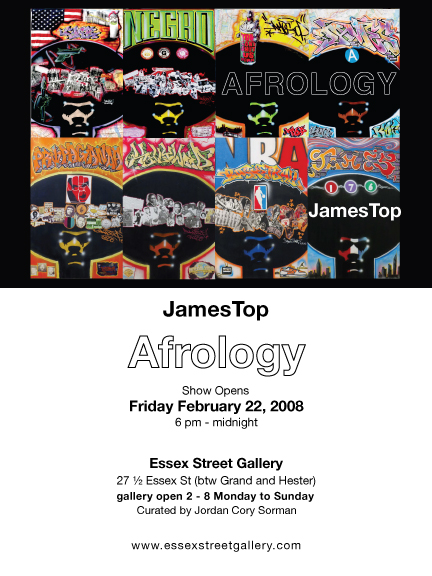 ---
ARTISTS CALL

Seeking Artists for June 2008

Street Culture Exhibition, Syracuse, NY

Freelance Curators / Artists Jose and Gwen Mercado Reyes, in conjunction with The Redhouse (Syracuse, NY) are seeking artists working in various media.

Our Mission: This exhibition is intended to bring light to the various subcultures that inspire the youth of our communities, while creating a dialogue and instilling a sense of pride and dedication. We use the term subculture broadly to encompass elements of graffiti, skateboarding, low rider culture, HipHop, to name a few.

The Program: In conjunction with the exhibition, we will be holding Gallery Talks, Live Painting Demos, Spoken Words, Music, Film Screenings and Artist-run Workshops for local youth groups and the community. These will be held throughout the duration of the show.

About the Curators: Jose "Joey" Reyes began doing graffiti as a teenager in the early 90s in Central California. Reyes received his BFA in Painting from San Jose State University. He has worked in the Gallery and Museum field for seven years installing exhibitions and curating shows.

Gwen Mercado-Reyes began her career in graffiti as a young teenager. After a decade of being forced to attend her Mother's Ballet Lessons she rebelled and swapped her pink slippers for a can of Krylon. Mercado-Reyes holds her BFA in Painting from San Jose State University and is pursuing her MFA in Painting at Syracuse University. She also has seven years experience in the Gallery and Museum field conducting Gallery Talks and facilitating Art workshops.

Submission Guidelines: Please send us a web url along with a brief statement, bio and resume via email at one20crew2001@cs.com

We can also be contacted at www.myspace.com/one20crew
www.myspace.com/one20crew
Check out our myspace for updates on the show!

---
NEW BOOK BY KET: GRAFFITI PLANET

Compiled by KET, a New York-based graffiti artist, Graffiti Planet is a collection of over 100 pieces of inspirational street art from around the world.

Graffiti Planet showcases work by the following artists among others:
Can2 - Munich
Bates - Copenhagen
Banksy - London
Loomit - Germany
CES - The Bronx, New York
Os Gemeos - Sao Paolo
Sento - Hawaii
T-Kid - The Bronx, New York
and many more...

www.mombooks.com

---
Brooklyn, New York: August 23, 2007

FIRST ANNUAL FIVE BOROUGH GRAFFITI KINGS


---
Woodstock, New York: August 11 - September 2, 2007

VARGA ART FACTORY PRESENTS New York City Graffiti

6 - 9pm We are pleased to announce the first ever Gallery exhibit of the New York Legend "LSD om" CHAD has always believed that graffiti is an outlaw art and thus resisted going the gallery route before but now the last of the purists has decided to share his art with the world. FLINT... is proud to be part of this special show which will also show case the talents of
TEAM, KR1, WHISPER.

VARGA GALLERY
130 Tinker St. Woodstock NY 12498
phone: 845.679.4005
Courtesy of exvandals.com


<
---
Bronx, New York: July 28

THE JUMP OFF

KET'S LEGAL FUND

www.supportket.org/
---
Brooklyn, New York: August 1,2007

The Hip-Hop Theater Festival, From Here to Fame Books, Mass Appeal magazine, and
The powerHouse Arena are pleased to announce


THE WALLS BELONG TO US
An Art Benefit for Alan Ket's Legal Defense

On August 1st, 2007, The Hip-Hop Theater Festival will host a silent art auction and benefit for Alan Ket's legal defense entitled, THE WALLS BELONG TO US; at the POWERHOUSE ARENA. THE WALLS BELONG TO US will feature the largest line up of global graffiti, urban art, and photography ever assembled in one space, with over 120 pieces and 105 artists involved. Canvases, sculptures, prints and silk screens from world-renowned artists including, Martha Cooper, FUTURA 2000, Lee QuiÐones, Lady Pink, Jamel Shabazz, GHOST, Grotesk, DELTA, Guy Gonzales, IZ THE WIZ, Jose Parla, Henry Chalfant, REVS, ZEPHYR, Shepard Fairey, EWOK, Joe Conzo, DAZE and Brett Cook Dizney.

In addition, THE WALLS BELONG TO US auction will play an instrumental role in raising funds to combat social injustice. Presently, Alan Ket [MaridueÐa] is the defendant in three cases in New York City. He has been accused and arrested for alleged graffiti crimes stemming from an October 2006 search of his home and office. In March 2007, police arrested him after a five-month investigation. He is charged with over a dozen felony charges [all graffiti-related] that if convicted could place him in prison for over ten years. Alan Ket has no prior criminal record. He is being represented by Daniel Perez of the law firm of Kuby and Perez LLP.

Since 1986, Alan Ket has documented the New York City graffiti art movement and been an active participant as a painter and supporter. From launching STRESS (1995) and COMPLEX magazines (2001) to serving as an art curator for the 2006 video game 3Marc Ecko1s Getting Up: Contents Under Pressure,2 he has made sure that graffiti art is recognized as an important and legitimate art movement by documenting its pioneers and its protagonists. Traveling to universities nationwide, Ket has been an outspoken advocate on graffiti history, criminalization, and issues concerning public art. Today, as US publisher of From Here to Fame Books, he publishes books that celebrate Hip Hop, street movements and graffiti history.

ABOUT THE AUCTION:
The open-invitation fundraiser will feature an open bar with beer and cocktails, music, a silent auction, and art raffles of books supplied by From Here To Fame. Alan Ket1s friends and supporters are donating works exclusively for this auction event to support his legal defense and to show solidarity to a fellow artist.

A preview of the exhibition will commence on July 25th and run through until the actual auction close date, August 4th, 2007. In addition, art patrons can visit: www.supportket.org/to view and/or bid on pieces featured in the auction starting on July 25th as well. The auction will be held online with select pieces being auctioned exclusively at the fundraiser event on August 1st.

Admission is $30 (minimum donation). Capacity for this event is limited and pre-registration online via credit card is strongly encouraged to guarantee admittance. Admission at the door is cash only and will be on a space-available basis. Pre-register via www.supportket.org/starting July 9th.


EVENT INFO:
THE WALLS BELONG TO US, an art benefit for Alan Ket's legal defense
August 1, 2007; 6-9 PM
Music by DJ Soul
Exhibition Preview starts July 25th, at:
POWERHOUSE ARENA in DUMBO
37 Main Street
Brooklyn, New York 11201-1021

The line up includes: FUTURA 2000, Lee QuiÐones, MICO, COCO 144, Jose Parla, Lady Pink, SMITH, Joey Krebs, Steve Marcus, Jamel Shabazz, GHOST, Joe Conzo, STAK, ESPO, Barry McGee, Grotesk, MICKEY, COPE2, Erni Panicolli, T-Kid 170, SONIC, Rob-O, Machine, MILK, SENT0, Henry Chalfant, VEN, WOLF, TEAM, VEEFER, Chris DAZE Ellis, CRASH, ZEPHYR, DONDI, Martha Cooper, MIN ONE, CORNBREAD, FREEDOM, TOOFLY, QUEEN ANDREA, PURE, NOAH, WANE, DOC, WENT, SABE, CAVE, FRAME, PERSUE, RISKY, Jani Tolin, EWOK, MARE 139, KEL 139, POSE2, WEB, ATOME, BATES, BLUSTER, CERN, CES, MED, DELTA, CYCLE, EZO, FREEDOM, FUZZ, GANO, WEN, Eric HAZE, Guy Gonzales, IZ THE WIZ, HENCE, HEWS, JA, JON 156, NYC LASE, KAVES, Matt Doyle, Joshua Griffler, MAC Crew, Mai Lucas, MERES, Ruedi One, REVS, PART, QUIK, Ricardo Cortes, SEAK, Shepard Fairey, SKUF, VIRUS, WEST, DUEL, OVIE, ZEKIS, KOE Rodriguez, Jim Prigoff, Inspector Collector, PEAK, DIVA, SPACE YMI, JAES, POSE2, NOXER, Brett Cook Dizney, DALEK, SMASH 137, LUNAR, SP ONE, MUCK, SEK 3, INK 76, BLADE, KR and a few additional surprises.

For more info please contact: Sara Rosen, Publicity Director, powerHouse Arena 37 Main Street, Brooklyn, NY 11201, Tel: 212-604-9074 x105, sara@powerHouseBooks.com

Images are available upon request.

Sponsorships are available. Please contact Joanne Carolino, Associate Publisher, Mass Appeal magazine, (718) 858-0979 ext.110, joanne@massappealmag.com
---
New York City December 2, 2006

GRAFFITI 2006

The Dollar Internet CafZÿ Gallery & JamesTOP Productions Presents GRAFFITI 2006
THE EVOLUTION OF AN AMERICAN GRAFFITI CREW:
TOP

Graffiti is an original American art form that was nurtured, cultured, and developed in NYC. For over 30 years, TOP has been recognized as; one of the most legendary subway graffiti crews in NYC. This crew has taken their subway beginnings and transcended in to; Television, Fine art gallery shows, Community art inspired activism, Fashion, and Web based commerce.

All are welcome on Dec. 2nd, to the Graffiti event of the year! View premier works from the legendary Top crew members; JamesTop, Special Guest, & Doms. Other artist to include: Two, Oui, Part, King Bee, Sago, Chris Questel, Grimmis, and Truth.

P C1s will be available for gallery visitors to log on and view additional artist works, sponsorship presentations & other graffiti web sites! By combining this urban art culture and the internet were creating an atmosphere of communication; by promoting the constant interaction of people, internet and the community.

Also on display will be works from original TOP members; MICKEY, HURST, JEE 2, IN 1, DONDI, and Special Guest.

Opening Reception: Saturday, December 2, 2006
Time: 6pm - 10pm
Music by: DJ Junking
After Party: TBA
There will be raffles and giveaways!!! Location: The Dollar Internet CafZÿ:
1687 Amsterdam Avenue between 143rd and 144th Streets

Directions: Take the # 1 train to 145th Street and walk up to Amsterdam Avenue, A, B, C, D Trains to 145th StreetSØWalk up to Amsterdam Avenue

Take the M 101, M 100 to 1687 Amsterdam Avenue (143rd and 144th) (The bus stops in front of The Dollar Internet Cafe)

For more information contact:
Tyesha Sims: 718-213-4677

---
Brooklyn, New York October 13 - November 19, 2006

NO SLEEP 'TIL BROOKLYN

A powerHouse Hip Hop Retrospective

Event Programming at The powerHouse Arena During VH1 Hip Hop Honors Week: October 13-16, 2006

Exhibition Open Daily to the Public: October 13-November 19, 2006
No Sleep 'til Brooklyn: A powerHouse Hip Hop Retrospective
The powerHouse Arena, 37 Main Street, Brooklyn, New York 11201
For more information, please call 212-604-9074 x100
No Sleep 'til Brooklyn is a 30-year retrospective of hip hop culture documenting its humble beginnings in the South Bronx through its glorious rise to global domination. The group exhibition represents every element of hip hop†from the breakers, graffiti writers, emcees, and djs to the photographers, writers, personalities, and fans who have made hip hop the greatest single force in pop culture. But this is by no means a story of celebrity, fame, and mass-market names. As KRS-One said, 'Rap is something you do, hip hop is something you live.' And so we dedicate No Sleep 'til Brooklyn to the people and to the streets, paying tribute to the founders, the innovators, and the next generation.

The show will feature works by artists including Charlie Ahearn, Janette Beckman, Peter Beste, Le Bijoutier, BLADE, Boogie, Martha Camarillo, Henry Chalfant, Vincent Cianni, Claw Money, Joe Conzo, Martha Cooper, CYCLE, DAZE, Martin Dixon, DR.REVOLT, (c)ELLIS G., Delphine Fawundu-Buford, Carol Friedman, William "NIC ONE" Green, JAMES TOP, Hamburger Eyes, Lisa Kahane, Brenda Kenneally, Brian Kenny, Seth Kushner, LADY PINK, Maripol, Slava Mogutin, NATO, Charles Peterson, Mark Peterson, Ricky Powell, QUIK, Lee Quinones, Carlos "MARE 139" Rodriguez, Randy "KEL 1ST" Rodriguez, Thomas Roma, RUEDIONE, Q. Sakamaki, Jamel Shabazz, STAY HIGH 149, Peter Sutherland, TEAM, TOOFLY, Craig Wetherby, Dondi White, David Wong, David Yellen, and a very special guest!



Friday, October 13, 2006, 6:00-10:00 pm Film Screening: Hip Hop: By All Means Necessary
Hosted by Mass Appeal
Drinks courtesy of Brooklyn Brewery and FIJI Water
New York premier screening of the first documentary film by acclaimed photojournalist Brenda Kenneally.
The film is a graphic and gripping journey inside the rap game. Featuring the members of the MMO clique based in Brooklyn, including Big Trigg, Sha, Skinny Minnie, and Foogie, the film travels around the city and across the country to explore how young black youth are hustling hop hop as a way to make something of their lives. But this is by no means a sugar-coated story; the film opens with a young man killed by the police; it takes you on stage with Ol1 Dirty Bastard at one of his final performances; it shows life in the projects as they are lived. Hip Hop: By All Means Necessary includes appearances by Brooklyn's own MMO clique; Bushwick Bill (Geto Boys), Kurupt (Tha Row), Ol' Dirty Bastard (Wu Tang Clan), LA Confidential, New York City Mayor Michael Bloomberg, Brooklyn Borough President Marty Markowitz, Funkmaser Flex, and Kanye West, among many others.

Panel discussion featuring MMO clique members Big Trigg, Foogie, Sha, Skinny Minnie, and others to follow.

Saturday, October 14, 2006, 6:00-10:00 pm
The Fun's Not Over Yet!
Drinks courtesy of Brooklyn Brewery and FIJI Water
Film Screening: Trailer for the upcoming documentary film Patti Astor1s FUN Gallery (Robert David Films)
The world famous FUN Gallery was the epicenter of the early-80s East Village cultural explosion. The first gallery in that then-tenement neighborhood was founded in 1981 by underground film star Patti Astor and Bill Stelling. It showcased the works of artists such as Jean Michel Basquiat, Lee Quinones, Keith Haring, Dondi White, ZEPHYR, Kenny Sharf, FUTURA 2000, A ONE, FAB 5 Freddy, and DR.REVOLT. The gallery provided many artists with their first solo shows and introduced countless others to the established art world for the first time. In 1983 then-Citibank art advisor Jeffery Deitch stated in People magazine that the Fun Gallery was 3one of the hottest galleries in the city.2

FUN! The True Story of Patti Astor, her first book, to be published by powerHouse Books, relates her escapades at that pioneering storefront space along with the unique FUN Gallery crew of graffiti artists, rock, rap, and movie stars, uptown collectors, scheming SoHo dealers, and neighborhood kids and hipsters.
The FUN Gallery panel will be moderated by Patti Astor and features some of the influential and original members of the FUN Crew:

FAB 5 Freddy on the landmark coming together of uptown and downtown for which he was the chief ambassador.
Diego Cortez, who curated the first "outlaw" art shows, Batman, Grutzi Elvis, and the groundbreaking New York New Wave on bringing this art to a larger audience.
v Patti Astor will introduce each panelist by reading short excerpt from her book. The panel will be followed by a Q&A with the audience.
Film Screening: Wild Style
For those craving the true roots of rap, Wild Style captured the hardcore South Bronx scene at its birth. The stars of Wild Style form the pantheon of hip hop1s pioneers: DJ1s Grand Master Flash, Grand Wizard Theodore, D.St.; rappers Grand Master Caz and The Cold Crush Bros, The Chief Rocker Busy Bee, Double Trouble, Fantastic Freaks and Rammelzee, and b-boy champions The Rock Steady Crew. Beat Music by legendary Blondie guitarist Chris Stein and Fred Brathwaite. Wild Style stars the legendary subway artist LEE Quinones and the queen of the graffiti scene, Sandra PINK Fabara. Graffiti Masters DONDI, ZEPHYR, and DAZE also bombed for the movie. Patti Astor stars as Virgiina, the downtown reporter who comes uptown to dig the scene. Fab 5 Freddy, who along with writer/producer/director Charlie Ahearn, helped create Wild Style, shines as the smooth hip hop impressario Phade. Wild Style follows the outlaw artists through the train yards to the rap/breakin' clubs. The movie culminates at a massive outdoor jam, definitely the most famous hip hop party in history!

Sunday, October 15, 2006, 4:00-7:00pm
An Afternoon with Jamel Shabazz and Joe Conzo
Hosted by Wax Poetics
Drinks courtesy of FIJI Water
Since the 2001 publication of his first monograph Back in the Days, hip hop culture1s premier street photographer and documentarian Jamel Shabazz has inspired a new generation to learn their history and celebrate their heritage. Possessing a vibrant record of thirty years of urban culture, Shabazz is devoted to teaching documentary photography to the youth in various communities both here and abroad. Complementing his work is that of photographer Joe Conzo, who intimately captured the birth of hip-hop as it came up on the streets of the South Bronx. Conzo became the The Cold Crush Brother's exclusive photographer, and also shot legendary groups including Treacherous 3, Fearless 4, and Fantastic 5 in famed venues such as The T-Connection, Harlem World, Ecstasy Garage and The Roxy. Committed to preserving the community and uplifting the people, Shabazz and Conzo will host an afternoon talk featuring a selection of the music that inspired their work, a slide show and lecture exploring their vast archives, host a Q&A session, and screen a trailer from the forthcoming documentary film 1 Love, on Shabazz, Conzo, and photographer Ernie Pannicoli.

Monday, October 16, 2006, 4:00-7:00pm
Women in Hip Hop
Held in conjunction with Black Girls Rock
Hosted by Brooklyn Bodega
Drinks courtesy of Brooklyn Brewery and FIJI Water.
All too often, women are overlooked, marginalized, or just flat out insulted in hip hop culture. This event is designed to give women their due while creating a forum for critical discussion and pro-active and positive approached to problem solving. Featuring a panel discussion with acclaimed female artists and writers, Women in Hip Hop will discuss the challenges they have faced as women setting out to make their mark in a traditionally male-dominated culture, providing both inspiration to young women and girls, as well as offering insight of their struggles with the men and boys with whom they work, love, and live. The event will also feature a performance from local Brooklyn songstress Maya Azucena, who most recently performed at the Brooklyn Hip Hop Festival, as well as a PSA from Black Girls Rock, and a multi-media presentation for We B*Girlz, the first book of female breakers around the world today by Martha Cooper and Nika Kramer.

The Women in Hip Hop Panel discussion will be moderated by powerHouse Book Publicity Director and No Sleep 'til Brooklyn curator Miss Rosen and will feature a broad range of women whose work has influenced hip hop for the past three decades including:

Patti Astor, co-founder of FUN Gallery
Janette Beckman, photographer of some of the most iconic album covers of the 80s
Beverly Bond, Founder and President of Black Girls Rock
Martha Cooper, legendary hip hop documentarian
Delphine Fawundu-Buford, street photographer and portraitist
LADY PINK, legendary graffiti writer and artist
Joan Morgan, author of When Chickenheads Come Home to Roost
TOOFLY, hot young urban muralist
Violet, old-school b-girl and founder of KR3Ts

Short Film Screening: Redder than Red
Celebrated photographer Martha Cooper and writer Nika Kramer make their directorial debut with the story of Hanifa "Queen" Hudson, aka Bubbles, the pioneering female breakdancer who rose to fame in the early 80s with breakdance crew The B-Boys, via appearances on TV and in early hip hop films Electro Rock and Bombin. Widely acknowledged as the first female breaker to compete with men in the almost exclusively male, emerging hip hop culture, Bubbles remains an inspiration to b-girls all over the world. Bubbles became famous through a line in Electro Rock when the host says: "Check out the one in red†it's a girl!" Combining vintage and recent footage, the film explores the life history of a talented, now-37-year-old, Jamaican-British girl who got caught up in the excitement of hip hop in the early 80s, attained a measure of fame, was virtually forgotten, but has recently re-entered the scene. In the intervening years, Bubbles married, had a son, divorced, and converted to Islam, changing her name to Hanifa. The film captures the excitement of the early days of hip hop as it arrived fresh from the Bronx to England in the 80s. The film's highlight is a reunion of Bubbles1 crew, the B-Boys, in the local community center, where they dance together for the first time in nearly 20 years.

Tuesday, October 17, at 9pm ET/PT
VH1 Hip Hop Honors will honor Wu-Tang Clan, Afrika Bambaataa, Russell Simmons, MC Lyte, Rakim, Beastie Boys, and Eazy-E. The week of events kick off Thursday, October 12 and will run through Tuesday, October 17 at 9pm ET/PT, when viewers can tune in to VH1 and see Ice-T host the broadcast of the 3rd Annual Hip Hop Honors.
---
Paris, France: September 23 - October 14, 2006

HENRY CHALFANT "BURNERS"

After "Art is not a crime" in 2004, Henry Chalfant is back in Paris for "Burners", his new exhibition at the Willem Speerstra gallery. Is it necessary to introduce the artist ? Co-author of Subway Art [Henry Chalfant and Martha Cooper, Subway Art, Thames and Hudson, 1984] and Spray Can Art [Henry Chalfant and James Prigoff, Spray Can Art, Thames & Hudson, 1987], co-producer of the movie Style Wars [Tony Silver, Style Wars, 1983, published on DVD by Plexifilm], he is the man who has revealed New York Graffiti to the world. "Burners" are forty photographies of window down burners [pieces painted under the windows] taken by the photographer in the beginning of the Eighties in New York and selected from the hundreds that form his collection. Some of them were never exhibited before.

His selection is simply astonishing. Every style is represented, in an explosion of flow and colours adorned with tags, commentaries and dedications to discover on the cars. The master's photographs, which give a fantastic reproduction of the subways' patinas and, on some of them, let see the rhythm of the environment, are magnificent. Thanks to Henry Chalfant, once again, it is a considerable part of the Graffiti adventure that is given to us to see and admire. A rare moment, not to be missed.

Extracts of the text written by Emmanuel Moyne for the upcomming catalogue: Henry Chalfant, "Burners".

Supported by GRAFF IT! PRODUCTIONS

SPEERSTRA GALLERY
4/6 rue du Perche
75003 PARIS / FRANCE
tel: (33) 01 42 77 60 99

---
New York City: June 24, 2006

NEW MARTHA COOPER BOOK

STREET PLAY

Photographs by MARTHA COOPER

Introduction by MARE 139 (Carlos Rodriguez)

Photography / New York
Hardcover, 9.44 x 9.44 inches
120 pages, 100 duotone photos
ISBN: 3-937946-16-0

---
Brooklyn, New York: June 30 - September 3, 2006

GRAFFITI AT BROOKLYN MUSEUM

Media Preview Thursday, June 29, 10 a.m. to 1 p.m.

The Brooklyn Museum presents Graffiti, an exhibition of twenty large-scale works from such influential artists as Michael Tracy ("Tracy 168"), Melvin Samuels, Jr. ("NOC 167"), Sandra Fabara ("Lady Pink"), Chris Ellis ("Daze"), and John Matos ("Crash"). Graffiti explores how a genre that began as a form of subversive public communication has become legitimate -- moving away from the street and into private collections and galleries.

Graffiti is organized by Charlotta Kotik, Curator and Chair, Department of Contemporary Art.

Brooklyn Museum
200 Eastern Parkway
Brooklyn NY 11238-6052
www.brooklynmuseum.org

---
New YorkCity: June 10, 2006

ROCK TILL YOU DROP

B-Boy Battles and Graffiti Show.
Sponsored by B-BOY NYC and INFURNO ENTERTAINMENT

Come check out some of today's freshest B-Boys Battling for there top spot for some serious cash. With indoor Graffiti Bombed walls, set up by NIC ONE and The Aerosol Kings Crew and friends. It's all happening at one spot for one night only. And it's all going down at:

CHAMELEON STUDIOS 353 BROADWAY NYC
Between Canal and Chambers st.
Take the R, W, 2, 3, 4, 5, A, C, E.
4 Blocks South of Canal st, 4 blocks North of Chambers.

B-Boy Battles will be judged by STRECH and KEN SWIFT EXHIBITION WORLD PREMIER
BY THE 7 GEMS ROCK DIVISION. GRAFFITI CURATED BY NIC ONE Aerosol Kings.

Graffiti by: NIC ONE, STEM, FUME, JASH, MES ONE, ZIMAD, MERES, KEZAM-AK TPA, SYE -TPA , BREAK -TPA, LUST -TPA, SP-ONE, EZO -TPA, SPAR ONE, KID90, REVOLT, STAY HIGH 149, SNIPER

Note: The graffiti will be on the walls already, there's no Live graffiti exhibition. All markers will be removed at the door. Peace.

For more info contact ROB: Robert@bboynyc.com
917-715-5430
www.bboynyc.com

---
New York City: June 24, 2006

A NYC MANIACS PRODUCTION

On June 24, 6-12am

RIST.1.TOP Proudly Presents:
DREW'S PLACE 100 Forsyth St, (NYC) corner of Grand St.
Featuring Artists: RIST.1.TOP, DUROCIA, REBEL.NSA, REK. NSA, SONIC002, BAD, JAMESTOP and ERO's Private Collections w/ works by: Martin Wong, Mark Kastabi, Jean- Michel Basquiat and LA2.
---
Brooklyn, New York: June 9 - 26, 2006

COPE 2 PRESENTS:GRAFFITI ART OVERDOSE

OPENING RECEPTION: Friday, June 9, 2006 7-10pm Featuring:
COPE2 T-KID DELTA2 INK76 SONIC FLITE PART ESPO EWOK CES EAZ DENZ TILT ZORI + DEC KLOR + SCIEN OVIE JAES JEZ BEEN3 INDIE TOOFLY DEMER ACET + THEMO

McCaig + Welles Gallery
129 Roebling Street Suite B
Brooklyn, NY 11211
718-384-8729

Sponsored by:
Elemental Magazine + Sierra Nevada

KD FAMILIA
Est. 1982
KINGS DESTROY / KILLA DOGS / KIDS DESTROY / KILLA DIVAS / KNOWLEDGE DOMINATES / KOOL DEMONS
www.cope2truelegend.com

---
Brooklyn, New York: June 25 - July 29, 2006

PROPAGANDA: The Dissemination of Ideas E

A group exhibition of legendary graffiti artists and graffiti documentarians, SLANG TYRUE, ERNIE PANNICIOLI, PETER SUTHERLAND, and JAMESTOP. The opening reception will be held Sunday June 25 from 3-7pm and will feature DJ Dundee spinning classic 80's records in homage of the graffiti genre. There will also be live performances by Keswa and a b-boy circle hosted by WESTROK. The exhibition will be on view through July 29. Propaganda examines contemporary political and social issues through the lens of contemporary graffiti artists and graffiti documentarians. Graffiti has existed since the days of ancient civilization and many will attest to its prehistoric origins. The evolution of the art form can be traced back to cave painting, believed to be the work of elders and shaman. Propaganda presents graffiti's progression and social pertinence, exhibiting exciting imagery that challenges the imagery of the status quo.

SLANG TYRUE, renowned Chicago graffiti artist, blends traditional graffiti lines and arrows with figure drawing and cubism. Slang refers to his carefully designed and expressive style as "slangism". On display will be large-scale paintings that address how Americans are unwitting slaves to mass consumption.

Famed Hip-Hop photographer ERNIE PANNICIOLI, will showcase 15 photographs of graffiti and graffiti artist taken over a span of 30 years in various locations ranging from New York's five boroughs, the American South and Sao Paulo, Brazil. The series is a vivid documentation of graffiti's history and development.

Noted filmmaker and photographer PETER SUTHERLAND presents work from his published book Autograf a series of obscure portraits of New York City's graffiti artists. Sutherland artfully documents graffiti as a cultural phenomenon, "capturing all the gritty glory and glamour" of graffiti artists, a.k.a. anonymous outlaws.

JAMESTOP, a legend and a leader in the graffiti community, presents a montage of self portraits embellished with multi media-collage. Though polished in presentation this work retains much of its authentic street flair. James calls to mind imagery from the Black Panther movement of the 60s -- with its stylized depiction of the strong African-American males.
v Please join us for this compelling exhibition, which allows the viewer to take a deeper look at the political and social heart of contemporary graffiti and the artists who make it!
v Gallery hours are Saturday noon to 6:00 p.m. and by appointment 718-638-8416. Located on the Clinton Hill, Brooklyn, Danny Simmons Corridor Gallery is easily accessible by public transportation. It is a short walk from the G train to Classon Avenue or the C train to Clinton/Washington Station.

Danny Simmons Corridor Gallery
334 Grand Avenue, Clinton Hill Brooklyn

For more information please visit us at www.rushphilanthropic.org


---
New York City: November 26th, 2005 - January 7th, 2006

James TOP Productions in association with Exhibit 1A Gallery presents
GRAFFITI UPTOWN: YOU CAN'T SHUT US DOWN 2005

October 24, 2005, New York, NY: Graffiti has been around since the early 70s in New York City. Subways were the primary canvas used to express ideas, political statements, anger, fame and love. As the MTA changed its strategy to combat this art form, graffiti artists had to adjust and find new ways to express themselves. Enter the gallery scene.

On Saturday, November, 26th, 2005, James TOP Productions in association with Exhibit 1A Gallery present "Graffiti Uptown: You Can't Shut Us Down 2005". In its seventh year, this series is a collection of some of the best graffiti artists, new and established, New York City has to offer. This gallery exhibition is Harlem's consistent and only ode to the world of graffiti and its accomplishments throughout the years. Expect beautiful art, powerful statements and a taste of history from graffiti artists DURO, OUI, STAY HIGH 149, KING BEE, PART, DOMS, KEO, MERES, TROOL22, JamesTOP, STEM, SAGO, DASE, HOPE391, TWO, NZ, JAYRA, DIAL167, DUCE, REE MTA and many others.

Opening Reception: Saturday, November 26th, 2005 7pm-midnight
Place: Exhibit 1A Gallery, Corner of 147th Street and 8th Avenue
Music by DJ Broadway and DJ Junking
Performances by MC Tone Vigilante, M.O.R. (Men of Respect) and many others Directions: A,C,D,B trains to 145th Street or 3 train to 148th Street

Exhibit 1A Gallery is the first all-graffiti art gallery in New York City. Gallery owner Roland Wilson has supported graffiti events in the past by providing the space and accommodations needed to bring graffiti to the community of Harlem.
---
New York City: October 27 - December 2, 2005

TOUR DE LEE: LEE QUINONES HURRICANE KATRINA RELIEF EFFORT BIKE TOUR

Press Release Source: Boys and Girls Clubs of America; Fosse Media

Artist Lee Quinones to Ride Bicycle from NYC to Miami for Hurricane Katrina Relief, Send-Off Press Conference with actress Rosie Perez Monday October 24, 12:57 pm ET

BROOKLYN, N.Y., Oct. 24 /PRNewswire/ --

SOURCE: Boys and Girls Clubs of America and Fosse Media

WHAT: Press conference to start Tour de Lee -- the New York-to-Miami bike ride by artist Lee Quinones to benefit Boys and Girls Clubs of America Hurricane Katrina Relief

WHO: Academy Award nominated actress Rosie Perez, Brooklyn Borough President Marty Markowitz and Manhattan Borough President C. Virginia Fields

WHERE: Continental Army Plaza (aka Valley Forge Monument) Park Enter @ corner of S. 4th Street and Roebling Street, Williamsburg Brooklyn
(Base of Williamsburg Bridge - adjacent to bridge onramp on the Brooklyn side) WHEN: Thursday, October 27th, 2005 @ 9:00 a.m.

Lee Quinones, world-renowned contemporary painter and star of the 1981 classic film Wild Style, will embark, starting October 27th, 2005, on Tour de Lee, a 5-week, 1,500-mile bicycle trip from Brooklyn to Miami, to raise money for the Boys and Girls Clubs of America Hurricane Katrina Relief Fund. Lee will depart for Miami at the conclusion of the press conference after his receipt of a Proclamation from the City of New York.

Upon Quinones' arrival in Miami, the custom made B.M.W. bicycle -- which Lee will paint during his ride -- will be auctioned off at an exhibit, with music by DJ Jazzy Jeff, at Buck15 on December 2, 2005 during the Miami Art Basel. Lee will then present BGCA with 100% of the monies raised through Tour de Lee to ensure its distribution to needy children affected by Katrina.

Tour sponsors include: Boost Mobile, Adidas, Buck15, Complex magazine, Miguel Paredes, Red Stripe Beer, Brooklyn Machine Works, A Bicycle Shop, Red Jacket Orchards, cviscusi.com, Futura Laboratories, Nema International, Recon, Tool Shed, Caputo's Fine Foods.

Lee Quinones was born in Ponce De Leon, Puerto Rico in 1960 and raised in NYC. He is an inductee of the permanent collection at the Whitney Museum of American Art (NYC), and has exhibited at The New Museum of Contemporary Art (NYC), Museum of National Monuments (Paris, France), Institute for North American Studies, (Barcelona, Spain), among others. Lee has been featured in periodicals including The New York Times, Wall Street Journal, Art In America and The Village Voice. Lee currently lives and works in NYC.

Additional information: www.tourdelee.com

CONTACT: Amber Fosse
Fosse Media
amber@fossemedia.com
---
New York City: October 29, 2005

GREG "PC KID" SESSOMS REST IN PEACE

The Family of Gregorio Lawrence Sessoms, AKA PCKid,Graf Artist Extraordinaire, (11/29/63-10/19/05) regretfully announces the passing of their beloved son.

PC KID passed away at his home in East Elmhurst Queens, Wed October 19. He was born on November 29th, 1963.

He is survived by his mother Rita Gonzalez, his father, his younger twin brother William, his older brother Michael, eldest brother Jeffrey and his nieces.

His commitment to the world of art was unquestioned, and we are grateful for the acknowledgement of his genius and generous contribution to the artistic community. Please join the family in the celebration of the life of our beloved son.

Date: Sat Oct 29th, 2005
Location: Cobb's Funeral Home
98 08 Astoria Blvd
East Elmhurst NY,11369
Time: 3:00PM

---
New York City: November 3, 2005

WRITER'S CONVENTION

Mark your calendars: A new show of paintings entitled "Writers Convention: A Collaborative Study of Pigments" will open with a reception at the Eyejammie Fine Arts Gallery on Thursday, November 3 from 6 until 9pm. The show opens to the public on Friday, November 4"

Writers Convention" is the brainchild of Sacha Jenkins (SHR), who is better known today as one of the ego trip posse of writers than as a graf writer who painted New York subway trains once upon a time. But it was as a graffiti artist and poster artist that Jenkins (SHR) first began to express himself creatively during his youth in Astoria, Queens in the mid-Eighties. (He published his first 'zine -- Graphic Scenes and X-plicit Language -- at age 17.)

For "Writers Convention," Jenkins (SHR) reached out to 11 notable painters, many of whom have roots in aerosol art. He collaborated with each of them to create a series of 36X36-inch canvases. The artists include: CHINO BYI, CLAW, CYCLE, DAZE, Maceo Eagle, FREE 5, HAZE, KAVES, SP ONE, MINT and SERF, and Jose Parla.

Eyejammie is located at 516 W.25th Street, Suite 306, New York, 10001.

Check us on the web @ www.eyejammie.com


---
New York City: September 2005

NEW BOOK: FUZZ ONE- A BRONX CHILDHOOD

Fuzz One A Bronx Childhood
by Vincent Fedorchak
Testify Books, 2005
FUZZ ONE is the staggering true story of a raucous and wholly unsupervised childhood in the Bronx of the 1970's. Vincent Fedorchak here hilariously narrates a wild tale rife with adolescent braggodocio and deadpan period details, taking us on a rough ride through a deteriorating Bronx jungle/wonderland where property value was plummeting and kids ruled the streets. Whether executing a gonzo graffiti mission in another borough with the insanity of a special ops soldier, fearlessly tracking down satan worshippers camped out in the old castles in Van Cortlandt Park, or being the first white boy inducted into the infamous Ebony Dukes street gang, Vinnie never flinches. Don1t miss this epic tale of youth gone awry that captures an important era of cultural upheaval in New York City's history. www.amazon.com
---
New York City: September 9 - 30, 2005

HISTORY IN THE MAKING PART III: GRAFFITI GOT GAME!

Featuring new basketball themed works of over twenty graffiti artists.

Chelsea-based Aurora Gallery (515 west 29th street (10th-11th) presents

Basketball, the keystone sport of Graffiti culture, is the subject of new works on canvas by over twenty metropolitan area Graffiti Artists.

The third installment of Aurora Gallery's proposed four shows to showcase over 20 old school and emerging Graffiti Artists,

"Graffiti Got Game" will include Canvases from:
COPE2, PART TDS, MERES, PC KID, JAMES TOP, DURO, OUI, VASE, PHEM9, GEAR, DOMS, TOO FLY, NAK 143, NZ ONE, ZEKIS, DYRECT, SADE, ERO, MAZIKE, Artist JAY EES and many others...

Photographer JONATHAN SINGER for the first time will be presenting large scale Graffiti images printed with Giclee on Canvas featuring works of DAZE and WEST
ERNI and CYCLE
TDS CREW Production "Graffiti hall of fame 2005"

Curated by Lady K-FEVER

In addition to H'ors D'oeuvres and beverages, the 7 pm opening reception on September 9th, 2005 will feature musical entertainment by DJ GRIMACE and Silent auction of a NY KNICKS signed jersey (proceeds will be donated to Charity)

AURORA GALLERY

, 515 West 29th Street (between 10th - 11th Ave) 2nd floor HOURS: Tuesday -Friday 11am - 5 pm, SATURDAYS: By appt only
Telephone: 212-643-1700/212-643-0388
SUBWAY: A C E 1 2 3 to 34th street/Penn

---
August 24,2005

MARC ECKO'S "GETTING UP" BLOCK PARTY

Getting Up went on as planned.
---
New York City: August 2005

ANIMAL MAGAZINE RESPONDS TO CITY'S ATTACKS ON "GETTING UP" EVENT
Posts Mayor Bloomberg's telephone number to voice protest. www.animalnewyork.com


---
New York City: August 17, 2005

MARC ECKO: OPEN LETTER TO THE CITY OF NEW YORK

In recent days, certain members of New York's City Hall have raised significant concern over an outdoor art exhibition scheduled to be held on Wednesday, August 24, on West 22nd Street between 10th and 11th Avenues. The City has gone so far as to revoke an event permit we have had in hand since July 18, 2005.

Unfortunately the spirit of the event, as it was originally conceived and as it has been presented to the appropriate civic groups and government officials since November 2004, seems to have been lost in the haste to stereotype all graffiti-style artists as "vandals" and to brand this event as a "promotion of crime."

At its core, this is an event designed to celebrate an art form born from the streets of New York over two decades ago as a means of creative self expression, allowing the public a unique chance to experience the workmanship and skill that go into creating a piece of art fine enough to hang on the walls of any traditional gallery or museum. Upon completion, a 48 foot mural will be donated to The Point, a Bronx-based nonprofit youth development organization, while the remaining nine will be placed throughout the city for public display.

This is my tribute to the 20 participating artists whose works now command top dollar across the globe, as well as to an art form powerful enough to permeate virtually every moment in our lives, from the ads and music videos we watch on TV to the products we wear and consume.

I am not, for the record, here as a graffiti artist. My style pales in comparison to people like PINK, COPE 2, and T-KID. I am, however, here as a by-product of their sense of style and their truly unique aesthetic language, drawing influence from their work in every one of my business ventures and surrounding myself at night with their canvas, photographs, and sculptures.

I am well aware that drawing graffiti in public places is a crime, and I do not condone or encourage it. At the same time, however, graffiti is a legitimate and historical part of the great art history of our city. The visual dialect is alive and well, and contrary to the opinion of certain elected officials, just because you draw on paper that way doesn't mean that you are writing on walls. That is the dialect that these artists and others like them dream through, that informed their creative energy so early on and helped them to go on to become a muralist, a film maker, a story teller, and even a clothing designer.

We are, as we have for nearly 10 months, continuing our dialogue with the proper authorities to reach a mutually agreed upon means of hosting this event on August 24 as planned. I have retained legal counsel who will vigorously and zealously represent my First Amendment interests, and those of my fellow artists and the community at large. In the meantime, I will continue to focus on what promises to be an enjoyable day of free art and music for the city that is home to my operations and that so generously embraced our "Save the Rhinos" benefit concert in Central Park less than two months ago.

- Marc Ecko


---
August 24,2005

MARC ECKO'S "GETTING UP" BLOCK PARTY

Marc Ecko's Getting Up Block Party brings graff from the tracks to the streets of NYC, featuring live art demonstrations, live DJ's (DJ Kool Herc, DJ Prince Paul, DJ Roc Raida, DJ Sinbad, DJ Avee, DJ 3D, DJ IXL) and surprise guest appearances (hosted by D-Stroy) in celebration of the golden age of hip hop. Throughout the day, ten 48 foot long by 8 foot tall replicas of the city's legendary ""Blue Bird" subway cars made by Metal Man Ed will be transformed into contemporary urban works of art by over 20 renowned graff writers (Dash, West, Ket, Cope2, Tkid, Ces, Sonic002, Iz The Wiz, Min, Duro, Tats Cru, Wane, Wen, Dero, Cycle, Smith, Pink, Doc, Kel 1st, Crash, Daze, Ghost) This historic event will be from Noon to 8pm on 22nd St between 10th and 11th in Chelsea. www.ecko.com

www.gettingup.com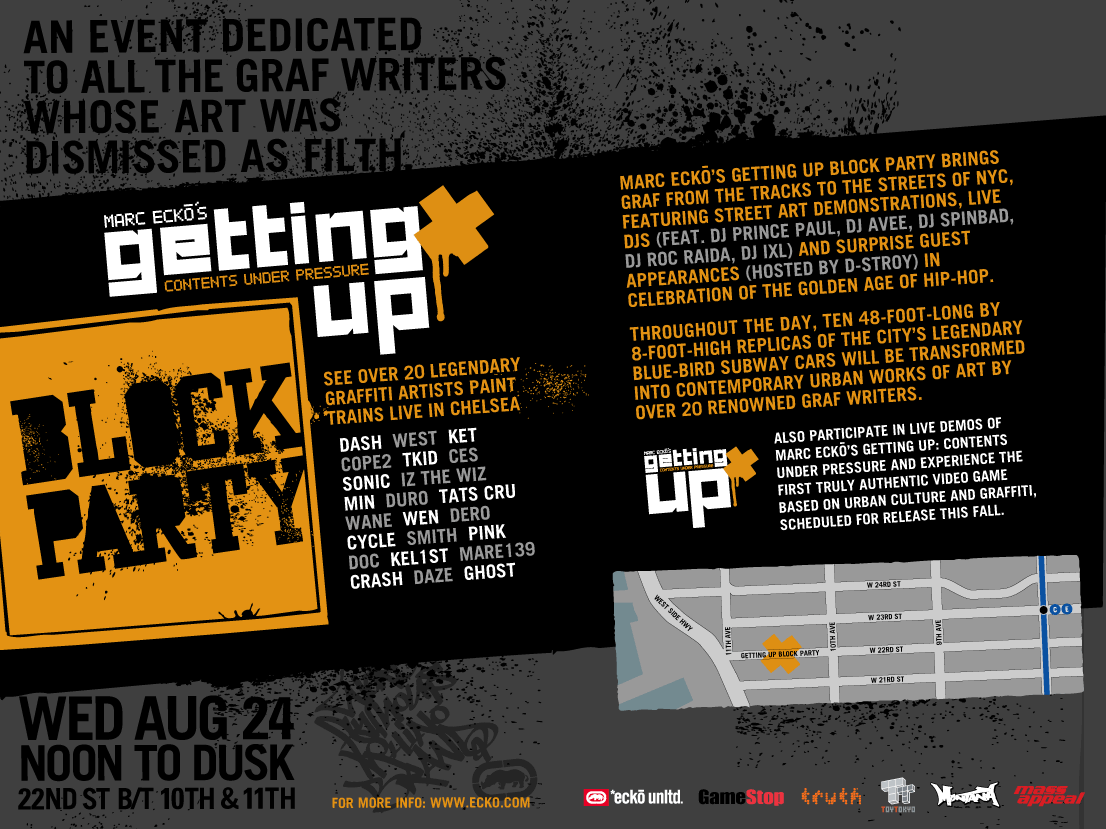 ---
New York City: June 28 to end of summer 2005

JUXTAPOZ ART AND CULTURE MAGAZINE PRESENTS: pARTy

LIT LOUNGE
93 2nd Ave
East Village, NYC

10pm till closing

Featuring Live Music and Giveaways

DJs STEVEGREEN & PATRICK O'(tm)DELL

JUXTAPOZ art and culture magazine is pleased to announce the launch of pARTy, a series of summer parties at Lit Lounge. pARTy begins Tuesday, June 28th, 2005, and will continue at Lit Lounge every 4th Tuesday of the summer months.

pARTy will culminate in an exhibition of READER ART and JUXTAPOZ will be accepting submissions every night of pARTy for the show. We hope to see you there!
---
Philadelphia, PA: June 23, 2005

NEW YORK CITY SUBWAY ARTISTS IN PHILLY

KR.ONE and TEAM of New York BIRD and CENSE of Philly and The Traveling 40 Oz. Show

Opening Reception: Friday June 24, 2005
Held at Jinxed Clothing
620 S. 4th Street
(between South and Bainbridge)
Refreshments while they last!
For more information log on to www.jinxedclothing.com.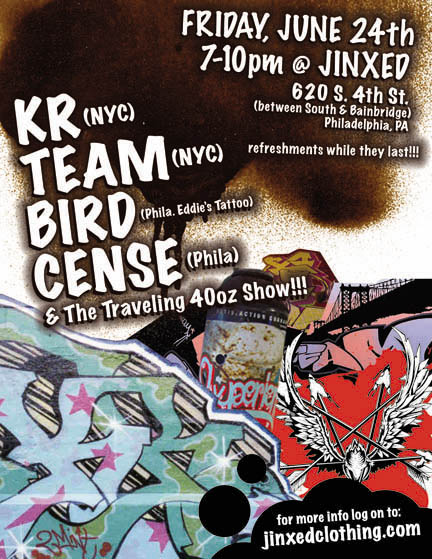 ---
London, England: September 8, 30, 2005

OL' SKOOL LEGENDS

The Paint Club and The Outside Institute
Presents...

"Ol' Skool Legends"
Graffiti art exhibition.

The art of graffiti writing.
A collection of Graffiti art on canvas, brought to you by the founding fathers and revolutionaries of graffiti linguistics. This group of artists will enlighten any and all who are interested in having a closer look at the art of writing.

Artists:
BLADE. The all time king of Graffiti in New York. The king of the trains.

COPE 2. The modern day king of New York.

CORNBREAD. The first known Graffiti writer to put his name on a wall in the streets of Philadelphia in the late 60's. This act spawned a art culture which now spans throughout the world.

DANGER 59. The Soul Stoned Brothers Prez and founder of Killem in the early '70s.

IZ THE WIZ. The original Master Blaster. One of the Godfathers of the Graffiti/Hip Hop movement. Probably the person who has written his name more times than any other writer on trains and walls of New York.

METAL MAN ED. Original metalwork from San Francisco with a Graffiti twist.

PULSE. The Godfather of the British graffiti scene. You don't get better than this writer either on trains, walls or canvas.

SEEN. The worlds most famous Graffiti writer. Style personified.

STATE OF ART. A pioneer of the 80's London Graffiti/Hip Hop scene, and co-owner of the world renowned Airheads.

STAYHIGH 149. A early Graffiti innovator in the late 60's. With his signature Saint stick figure smoking a joint, which became his trademark.

TRACY 168. One of the first generation Graffiti writers in New York in the late '60s. The founder of the Wild Style crew. A legend and a giant in the art of writing.

Date: 8th September till 30th September 05.
Address: The Outside Institute, 27 Junction Mews, London W2,1PN.
Tel: 020 7262 5513 Fax: 020 7262 6987
E.mail: olskoollegends@yahoo.co.uk
info@outsideinstitue.com
---
International: Deadline: September 1, 2005

CALL FOR STREET ART

Deadline: September 1, 2005
SAW (streetartworkers.org) is seeking posters for an international street art campaign about land and the effects of globalization. We want you to design and submit posters that will be printed and wheatpasted in cities across Europe and North America. The strongest designs will be published as a mass produced, newsprint poster collection. This will be a 24 page, 2-color newspaper which will include up to 30 posters. SAW will pay for the printing, and volunteers will distribute the posters. The majority of posters will be wheatpasted in public by participating artists and folks who just want to paste up their city.

For examples of similar projects, see:
www.norncposters.org/ourcity.htm
www.partisanproject.org/
www.lumpen.com/events/select7mag.html .

WHAT IS SAW?
Based in the U.S., SAW is a network of printmakers, stencil artists, graffiti writers and painters who use the streets for art and activism. We are taking back our cities and towns from the businessmen, cops and politicians who define public space for their own benefit. As a volunteer-run group, we make street art for political campaigns and post each other's work across North America. Since 2001, our projects have talked about prisons, the mass media and utopian ideas for the future.

2005 CAMPAIGN: LAND AND GLOBALIZATION
SAW wants to look at how globalization has affected our lands and how people are fighting back. How has it affected land in the cities - especially housing? How has globalization impacted land and workers in the countryside with farming, mining, drilling, logging and other resource extraction? What are the connections between land struggles in the global south, indigenous nations and the industrialized north? How are workers, farmers and campesinos resisting the impacts of globalization? What organizing strategies have worked and which ones have failed?

We want posters that build connections between international struggles and actual organized projects with high profile publicity. We especially want to see multilingual submissions and work from the perspective of women, Third World communities and indigenous/First Nations. Although it's not required, we encourage artists to collaborate with grassroots, social change organizations of their choosing to make posters. We want work that is both imaginative and relevant to "on the ground" organizing around issues of land, housing and globalization.

Contact:
e-mail: streetartworkers@gmail.com
phone: 415-821-7282
mail: Josh M./SAW, PO Box 476971, Chicago, IL 60647

For more details and submission process: www.streetartworkers.org .


---
Brooklyn, New York: June 11, 2005

Urban contents programming illbrew.com in association with NSPYouth.org and Educated Voices of Hip Hop presents
The 7th Annual Brooklyn Hip Hop History Celebration (BHHHC).

The yearly assembly respectfully salutes the history, culture and integrity of Hip Hop with emphasis on Brooklyn's contribution to the ethnology. BHHHC '05 will esteem the classic Hip Hop artistry of Newcleus, Count Coolout and Stafe during its opening night ceremonies. Newcleus officiated their place in music history with they're hypnotic techno-fused groove, "Jam On Revenge (The Wikki-Wikki Song) which has been immortalized unfathomably on mixed tapes. When rap music was making its initiatory emergence, Count Coolout was one of the pioneering skills-men of the genre. His "Rhythm Rap Rock" pounced on the scene with fury; viciously igniting the dance floors and blazing a permanent mark on the major music charts like Cashbox and Billboard. The boisterously funky party anthem "Set It Off" has been around for at least twenty years and is credited to the artist known as Stafe. This monstrous club classic is still setting off parties today with its infectious eternal groove. These artists will be honored with a Brooklyn Hip Hop History trophy during the awards ceremony.

A stunning urban fashion show will also grace the stage, along with a ferocious B-Boy / B-Girl competition hosted by recording artist Sonja Blade with breaks by King Uprock. Guest DJ is Brooklyn's Jasey Jase on the remarkable wheels of steel. Opening night awards and gala kicks off at 8:00 PM on Friday, June 10th at BRIC Studios, 57 Rockwell Place in Brooklyn, New York. A donation of $10 will cover the evening, of which proceeds will benefit the Educated Voices of Hip Hop Summer Youth Academy. Student discounts are also available. Brooklyn Hip Hop History celebreation also invites you to an Art Exhibition featuring DURO, JAMESTOP, DOMS, MERES, and STEM on Saturday June 11th, 7PM (free) at Solomans Porch, 307 Stuyvesant Avenue in Brooklyn, New York.

For media passes to the events and more information on 7th Annual Brooklyn Hip Hop History Celebration, please call: 646.207.1698/347.232.3313 or
email: events@illbrew.com. For more information visit www.illbrew.com .


---
New York: FALL 2005

NEW RICKY POWELL BOOK FROM MISS ROSEN EDITIONS

Read press release
---
New York City; Los Angeles, Ca - May 27, 2005

FILM: RELEASE: BOMB THE SYSTEM

Bomb the System is the first feature in over 20 years to delve into the world of graffiti art. The film, shot entirely on the streets of New York City, is the feature debut of 23-year-old writer/director Adam Bhala Lough.

For more information visit www.palmpictures.com/videos/bombthesystem.html.


---
New York City: 2005

NEW GRAFFITI DVD SERIES: The History of Videograf Productions: Volume One

Carl Weston & Graffitivideos.com are about to release the first in a new Dvd series called "The History of Videograf Productions: Volume One" coming March 2005. Videograf Productions was founded in 1989 and was the first company to do graffiti videos. No other company has produced as many graffiti videos as we have. VGP has produced a total of 12 videos between 1989 and 2004. Before we release OverSpray 1.0 later this year we wanted everybody to know, especially new graffiti writers who started the whole graffiti video game. Videograf Productions is about to unleash their 16-year archive. It's about time...

For more information visit www.whosup.net .
www.graffitivideos.com

---
---
New York City May - August 13, 2005

ONE MORE THING BY BARRY MCGEE

A museum scale exhibition of new work by Barry McGee! Deitch Projects is the third venue of a project that began at the Rose Art Museum in April 2004 with an exhibition curated by Raphaela Platow. Barry McGee works cumulatively folding one body of work into the next.

@ Deitch Projects
Address: 26 Wooster Street
Date: Through Aug. 13th
Info: 212.343.7300

For more information visit www.deitch.com .


---
New York City: 2005

DONDI WHITE LIMITED EDITION PRINTS

The DONDI WHITE ESTATE proudly offers, for the first time, the Dondi White Prints. Taken from four rarely seen canvases painted by Dondi White, the "Style Master General". The Dondi White Prints come in a 4 piece 162x 202 set. Each set is masterfully printed on Archival Somerset watercolor paper; packaged in a handsome 242 clear tube, with the official Dondi White logo emblazoned on the outside. Also enclosed with each set is a six-page collector1s brochure with color photos of each print and a list of galleries throughout the world where Dondi White exhibited. This four-piece exclusive collector1s set will be offered only one time in a printing of 100 sets, numbered and embossed with the seal of authenticity of the Dondi White Estate.

To pre-order your set of the Dondi White prints Email: dondiprints@yahoo.com

For more information visit www.durocia.com/dondi_white_estate.htm


---
New York, March 12 - July 1, 2005 2005

END STATION

The Bohen Foundation will open its latest commissioned project, a site-specific installation by Michael Elmgreen and Ingar Dragset

End Station transforms the entire lower level of the Foundation into an abandoned, ghost-like subway station. After crossing the existing grating and descending the metal staircase, viewers turn a corner to find themselves standing on the platform, looking at the tracks, benches and signage of a typical New York City subway station, but one that has been stopped in time. Incorporating subtle hints of a bygone era such as a 1980s poster or tags of graffiti, End Station toys with our memories of a former New York, one that is familiar but indefinable.

COCO 144 and GHOST appear by special arrangement with Martinez Gallery

Open to the public Tuesday-Friday from 12-6.

The Bohen Foundation
(212) 414-4575

415 W 13th St
New York, NY 10014


---
New York City May 7 - August 31, 2005

PROJECT IN THE PROJECTS

Project in the Projects will be viewed by appointment at an unspecified location in manhattan's lower east side through August 31. Photos and live webcast at www.martinezgallery.com Opening reception Saturday, May 7, 6-8 PM. After Party from 8:00 PM.Two day preview Saturday and Sunday May 7 and 8 from 12 Noon - 6:00 PM at Storefront for Art and Architecture located at 97 Kenmare Street in Soho. Symposium Saturday, June 4, 6-8 PM at Bluestockings Bookstore at 172 Allen Street on the Lower East Side. For more information about PROJECT IN THE PROJECTS, please contact Martinez Gallery at 718-706-0606. Artists: Bama, Case 2, CoCo 144, Earsnot, Flint 707, Ghost, Giz, Kez 5, Nato, Rate, Msÿsco, Tracy 168, and VFR Curator: Antonio Zaya Design: Kaptein Roodnat Editor: Ken Bensinger

For more information visit www.martinezgallery.com .


---
Network Television Broadcast: February 24, 2005, 9:00 PM EST

NBC's THE APPRENTICE: THE WRITING ON THE WALL

Season: 3
Episode: 6

Donald Trump enlists video game giant Sony Computer Entertainment America for one of the most colorful "Apprentice" tasks this season (February 24, 9-10pm ET). Trump challenges the candidates to create a graffiti billboard promoting "Gran Turismo(tm) 4, the fourth installment of the worldwide blockbuster-selling Gran Turismo series, available exclusively for the PlayStation(r)2 computer entertainment system.

Teams interview and then hire a graffiti artist to paint a 20-foot wall in Harlem but each team is responsible for the overall vision of the mural. Both Sony Computer Entertainment executives and a focus group of 18-34 year old gaming enthusiasts judge the finished graffiti wall.

"Nowadays there is a new form of urban advertising. It's called graffiti," says Trump. "I'm not thrilled with graffiti. I don't like graffiti but some of it is truly amazing."

At the beginning of the episode, one candidate has an emotional breakdown and candidly confronts her team members. During the task, one team begins painting their billboard before deciding on a concept while the other team struggles with personality conflicts.

The winning team is treated to a personal photo session with renowned photographer Patrick Demarchelier.

Jill Cremer, VP of Development for The Trump Organization, replaces Carolyn Kepcher in the boardroom for the second consecutive week. Carolyn will return to the boardroom next week.

"MAGNA": Stephanie, Bren, Erin, Kendra, and Alex

"NET WORTH": John, Audrey, Angie, Tara, Chris, Tana, and Craig.

Week 6 Exemption: Tana

Web site:www.nbc.com/nbc/The_Apprentice_3/
---
Bronx, New York: February 10 -20, 2005

NIC ONE PRESENTS: MAD DASH

Opening Reception is on February 15th, from 6:00 to 10:00 p.m.

NIC ONE will be having his first One Man exhibition show, in the place where it all started for him, The Bronx. Nic has been an active graffiti artist and music industry photographer and graffiti documenter within the Hip Hop culture for many years now. His artwork is in several books and he's been published is several publications. He has been an active photographer for Video Graf Productions since 1989. Nic was also one of the lucky few that were documenting the New York City Subways from 1985 to 1989. Now his show titled, MAD DASH will be held at The HAVEN Gallery.

The show will be up from the 10th to the 20th of February.

Directions: take the number 4 or 5 trains to 138th Street. Walk towards Canal St and Ryder Avenue turn left at the corner of Canal Street and then walk up to East 141st Street. The gallery in located between Canal St and Ryder Street.

The HAVEN Gallery
Located at 235 East 141 Street, Bronx, NY, 10451

Phone: 718-585-5753
Email: havenarts@hotmail.com

Web site:www.havenarts.org
---
New York City: February 15 -23, 2005

JEFF CHANG'S CAN'T STOP WON'T STOP BOOK EVENTS

February 15, 2005, 7:30PM
Barnes and Noble-Astor Place (NYC) 4 Astor Place Near NYU and Cooper Union

February 16, 2005, 7:00PM
Asian American Writer's Workshop & Asian American Legal Defense Fund Event and Panel Discussion (NYC) Reading, Signing and Panel Moderator: Joseph Patel, MTV News Panelists: Serena Kim, Features Editor, Vibe Magazine Janet Tzou, Publisher, Mouther.com And your boy too Asian American Writers' Workshop 16 West 32nd Street, Suite 10A New York, New York $5 suggested donation A benefit for Asian American Writers' Workshop, and Asian American Legal Defense and Education Fund

February 17, 2005, 6:00PM
NYU Panel with Bakari Kitwana and Raquel Z. Rivera (NYC) NYU's Urban Studies Speaker Series Panel discussion with Raquel Z. Rivera and Bakari Kitwana! On Hip-Hop Scholarship and Urban Studies Kimball Lounge 246 Greene Street

February 20, 2005, 1:45PM
Brooklyn Public Library (NYC) With MARTHA COOPER, Pioneer Hip-Hop Photographer Celebrating the releases of both Can't Stop Won't Stop and The Hip-Hop Files A Joint Multimedia Lecture Second Floor Auditorium Grand Army Plaza Park Slope, Brooklyn NY Back in the old 'hood!

February 22, 2005, 6:00PM
Hue-Man Bookstore and Cafe (NYC) 2319 Frederick Douglass Blvd Between 124th and 125th Streets More info on the event here. Click to their website here.

February 23, 2005, 7:00PM
New York City Book Release Party with DJ Kool Herc! A Special Bronx Museum of Art & Tools of War Event (NYC) A Very Special Book Release Event A Tribute to The Bronx In The 70s Featuring DJ Kool Herc, Benjy Melendez of the Ghetto Brothers, the Original Jazzy Jay and Popmaster Fabel! It's free!

Purchase the book and get the Can't Stop Won't Stop mixtape, plus a dope tote bag from Triple 5 Soul and assorted swag, while supplies last! More details TBA. Check out: www.cantstopwontstop.com




---
Orlando, Florida: February 17-19, 2005

CITY STREETS

Twenty of the worlds best artists to hit Orlando, CHAD, CHAIN 3, BERTO, DISCO 3yb, DEE DEE, DES, IF ONE, KENSKIi, LADY K FEVER, OUI, MERES, NC ONE, NOIK, REE 2, RIFF 170, RODNEY, RIOTR and ZORI 4. Urban art is there message and the walls of the world are their original canvass. Now they will be here (Orlando) for three days of creativity.

Armed to T with their paint, brush1s and their aerosol cans, they will transform Church St. into a world of urban art. But that is only one of the pieces of their puzzle. Artist and gallery owner R.V. (Robin Van Arsdol) along with curator Steven Valle (DISCO 3yb) have put together a collection of activities.

While the artists are creating their works on the walls outside, inside an exhibit on Urban Art( Keith Haring and the N.Y.C. Street Art Movement) will accompany a slide show of the history of street art. Music will be played through out the event. But not just music, there will be '70s and '80s (break dancing), a live Country band a Latin band, Rappers, and much, much more. On this day nothing will be left untouched. Caulk art will adorn the sidewalks. And the smell of food will compliment it all. To close every day there will be a live performance.



---
New York: Feburary 26

THE WRITTEN WAR

New Exhibit @ The Starlight Gallery

Brooklyn, New York-February 26th,2005-Bedford Stuyvesant Restoration Corporation announces the Skylight Gallery's opening of "The Written War", an urban expressionist exhibition from a prolific New York City graffiti based crews called "CIA " and " TOP ". Members include DONDI CIA, DURO CIA, KEL FIRST AND JAMES TOP, also in the show are MARE 139, MIN RTW, CRIME 79.Curated by Carl Hixson. On display from February 26th to April 16th.The exhibit showcases the works of this Brooklyn based Graffiti Crew who for more than 20 years self-promoted and transcended the Hip-Hop culture visually, from the train yards to the galleries and museums thought out eastern Europe and across the United States. As the first element of Hip-Hop. since the beginning ,Graffiti has been the absolute form of urban _expression . The CIA and TOP CREW has transcended ,survived and exhibited worldwide. They have become one of the most influential and most respected group of this movement. Led by the late " DONDI WHITE " who is recognized today as one of the most inspiring artist of his generation.. DURO CIA: Vice President and Founding member of the crew. He has held and maintained the crew with leadership and vision into the 21st century. Duro curated numerous art exhibitions and been a strong voice in the culture. Through the years he has appeared in numerous publications and documentaries. Currently working on his autobiography" EXPRESSION OF OPPRESSION".

KEL FIRST: One of the early members of the crew who helped maintain and elevated CIA'S statues on the BMT and IRT Subway lines. Instrumental in the development of transcending the art form to the World Wide Web. His works have moved on to designing jewelry for such artist as Madonna,Busta Rhymes and Kelis.

CARLOS" MARE 139TH" RODRIGUEZ: One of the youngest member of the CIA crew whose graffiti-relief sculptures is indicative of the Wild style writing experience that he adopted as a writer. Commissioned by BET to design and create the BET MUSIC AWARD. Recently has launched the new "Style Wars " website in collaboration with web site developers" Code & Theory ".

JAMES TOP: Original member of TOP INC. Self taught artist from the East New York section of Brooklyn and who has continued as the co-founder of "Graffiti Artist for a Positive Cause". Today he is the host of "Inside Graffiti" which is shown on channel 57 Manhattan. Currently he is the Director of Art at the Harlem YMCA.

MIN ONE: Who together with DURO CIA began a rampage on the New York City Subway System and was THE true legend who kinged all lines of the subway system. He is best known for his appearance in the Hip-Hop Documentary "Style Wars" for his quotes. There are still many HIP-HOP historians that quote his words today.

CRIME 79: Inspired by the earlier members of the CIA TOP crew and later developed his own style and created numerous whole cars on the BMT lines. His experiences in the earlier years has led him into the graphic design/ printing industry where he has most recently opened his own printing company. Other credits include the HUSH mural in LL COOL J'S newest music video .

Special Guess: DJ Lou, DJ Q, Star Ftw, and, PopMaster Fabel Rock Steady Crew, also a Break Dance Battle for $500.00 price award to the winners between "Break Cru" VS (to be determined). Plus a raffle of a Duro CIA canvas worth $1800.00 (tickets $2) Two of Dondi White canvas will be on Exhibition.

Limited seating available. Gallery hours are Tuesday-Friday, 11am -7pm and Saturday 11 am -5pm Suggested donation is $2 "TOOLS OF WAR" GRASSROOTS HIP HOP NEWS LETTER

Contact: Carolyn Butts,Associate,Director of Center for the Arts & Culture (CAFC) @718-230-0693 Fax: 718-623-1118


---
January 6, 2005

JEFF CHANG'S Can't Stop Won't Stop Web site Launches


www.cantstopwontstop.com

And (yes, finally) Available on February 1st... Can't Stop Won't Stop:
A History of the Hip-Hop Generation
By Jeff Chang
Introduction by DJ Kool Herc


---
New York: January 22

GOOD FUC*IN LUCK

No cover art/graffiti/video show
After party with FREE Alcohol
Contact www.livedaybyday.com
or email: livedaybyday@hotmail.com for more info



---
New York: January 21 -February 3, 2005

HISTORY IN THE MAKING PART II

celebrating graffiti art from the trains to the streets. opening reception January 21, 2005 6 pm - 10 pm CRIME 79, JAMES TOP, SADE, ERO, LA 2, PART TDS, DOMS KOC, STEM YNN, MUCK, K-FEVER, ZORI 4, DEC, DEMER, MUSE, PHYME, JACK 1 NCB, PRIZ 1 TSF, STAN 1 TSF, PC KID, BOM 5, NAC 143, RD, SD, MERES, De La Vega and many more............... opening night reception music by DJ Brassknucles aka SOE and DJ K- sah-Rah aka ERO.


---
New York City - October 27, 2004

Duro CIA and Marcoart Gallery in Associaton with JamesTop Present:
GRAFFITI 2004

Featuring Artists:
JAMESTOP, MARCO, MIN RTW, DURO CIA, STAR TMB, FDT 56, REE MTA, BEM, KEO, CRIME 79, ACEPT, STIM YNN, MERES, JAYRA, DOMS, MUCK, QA, PART TDS, TROOL 22, SKETCH, BEEN 3, DEMER, HOPE 391, SPAR, FEVER, HYG-G, NZ, TRUTH, CERN. ON THE WHEELS DJ GRIMAS AND DJ JONKING

Marcoart Gallery 181 Orchard St. NYC 10002 (between E. Houston and Stanton St.)


---
New York City - November 17, 2004

Apple Computers presents:
STYLE WARS WEB SITE PRESENTATION AND LAUNCH

When: November 17,2004
Where: Apple Store in Soho 103 Prince Street, NY NY 10012
Time: 6pm-8pm

After Party at The Green Room, 286 Spring Street just off Hudson St.
From 9pm -till

Join Carlos "MARE 139" Rodriguez as he presents Code and Theory the design firm behind the Style Wars Website. There will be a presentation of the website as well as a question and answer session with the Code and Theory followed by a preview of Style Wars and a Q&A with the Director of the film Tony Silver and producer Henry Chalfant.

Brought to you in Association with Ecko Unlmtd.


---
New York City - November 13, 2004

The Chelsea Art Museum Presents: HOLLYWOOD TO THE STREET: FROM THE POSTER TO GRAFFITI

On the occasion of its second anniversary The Chelsea Art Museum, Home of the Moitte Foundation in collaboration with The Italian Cultural Institute of New York has pleasure in inviting you to the opening reception of

Hollywood to the Street:
From the Poster to Graffiti

November 13-January 29, 2005

Featuring the work of Mimmo Rotella, and graffiti artist JosZÿ Parla
On Saturday, November 13, 6-8pm

The evening will also celebrate The publication of GRAFFITI WORLD (Harry N. Abrams)

Chelsea Art Museum
556 West 22nd Street at 11th Avenue
212-225-0719 * www.chelseaartmuseum.org
Hours: Tuesday through Saturday, Noon to 6 PM; Thursdays Until 8 PM


---
New York City - October 24 - November 24, 2004

JAMESTOP ONE MAN EXPO

Recept Sun, Oct 24 5pm - 9pm
Homesweet Harlem Cafe
270 W.135th Street
7th & 8th Ave.
212-926-9619
C & B train to 135th Street
2 & 3 train to 135th

---
New York City - October 27, 2004

Duro CIA and Marcoart Gallery Proudly Present: 100 TOKENS 100 TAGS

IF YOU BOMBED THE LINES BACK IN THE DAY IN NEW YORK CITY DURO CIA AND MARCOART WANT YOU TO PARTICIPATE IN A GALLERY SHOW AT THE MARCOART GALLERY IN DOWNTOWN MANHATTAN IN THE END OF OCTOBER- FOR COMPLETE DETAILS PLEASE CONTACT: DURO: durociatop@yahoo.com MARCO 646 479 2264 marco@marcoart.com DON1T DELAY SPACE IS LIMITED-ARTISTS WILL BE CHOSEN ON A FIRST COME, FIRST SERVED BASIS FOR IMMEDIATE RELEASE: MARCOART AND DURO CIA PROUDLY PRESENT 100 TOKENS 100 TAGS THE ARTISTIC CONTRIBUTION OF 100 SUBWAY ARTISTS TO THE MTA IS RECOGNIZED ON OCTOBER 27th, 2004 NYC'S SUBWAY CENTENNIAL

On October 27th 2004, the artistic contribution of 100 legendary subway artists to the MTA will be recognized on the 100th Anniversary of New York City's Subway system. Each artist will embellish a Subway Map and a poster will be made of all the cards and mailed to Lawrence G. Reuter, President MTA New York City Transit as a small token of their artistic contribution to the 30 missing years of MTA history.

100 Tokens 100 Tags celebrates these artists revolutionary application of their creativity to the surfaces of the transit system permanently altering the face of the MTA and the Art world forever and allowing many of the artists to embark on artistic careers which for many of them have enabled them to achieve a legendary status and receive worldwide acclaim.

Each artist's embellished Subway Map will be framed and mounted and will be available for $100.00ea the night of the event and for the duration of the show which will run for approximately 3 weeks.

Marcoart Gallery 181 Orchard St. NYC 10002 (between E. Houston and Stanton St.)


---
New York City - August 27, 2004

Duro CIA and Marcoart Gallery Proudly Present: BLADE

BLADE: King, master, visionary. Blade is more than a graffiti artist. A remarkably pivotal figure in the history of graffiti. Blade's successes as a graffiti artist are myriad. Blade's artwork has been extensively collected and exhibited for over twenty years and has participated in over 60 select solo and group gallery exhibitions throughout the world. Blade has also been involved in numerous symposiums and appeared in hundreds of articles, television features, magazine and journal publications and catalogues. At the forefront of the subway graffiti movement in the 1970's, Blade's work is not only recognized as significantly influential, but his lengthy career as a professional artist has warranted his worldwide notoriety and fame. Painting over 5,000 trains and evolving to new levels of subway and canvas graffiti, Blade has had exhibitions at the Whitney Museum (2000), Cleveland's Rock and Roll Hall of Fame (2000), a 1991 show at the Musee National Des Monuments Fran?ois (Paris France), numerous shows at the Groninger Museum, and dozens of shows in Europe and Asia. On October 28, 1994, Blade was invited to the Groninger Museum to meet Queen Beatrix of the Netherlands, as she was attending the prestigious institution's re-opening. His work is highly collectable.

Press Media Reception Thursday August 26th, 2004 6-9pm RSVP a must 646 479 2263 e mail marco@marcoart.com durociatop@yahoo.com

Gallery Opening Reception Friday August 27th, 2004 7-10pm

Marcoart Gallery 181 Orchard St. NYC 10002 (between E. Houston and Stanton st.)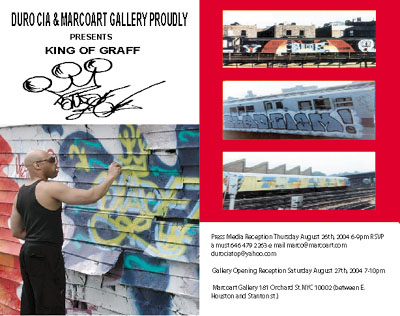 ---
New York City - July 10, 2004 - July 31, 2004

LIVING ENVIOUS STYLES PRESENTS: "PIECES OF THE PAST"

Saturday, July 10, 2004 6:00-10:00 pm

Living Envious Styles embodies the classic flavors of NYC street culture. "Pieces of the Past", their current tribute celebrates the cultural contributions of old school subway artists.

Featured artists: AZ ONE, CHAIN 3, DIAL 167, DURO CIA, FARGO, FDT 56, LED/SPAR, PAID 3, REE 2/OPEL

"Pieces of the Past" will showcase photographs of classic subway paintings juxtaposed with contemporary interpretations of the paintings rendered on canvas and paper.

Curated by SPAR ONE and DIAL 167

Living Envious Styles
Location: 172 Allen Street (F train to 2nd Avenue and Houston Street)
New York City

212-475-8993
Email: micah273@mac.com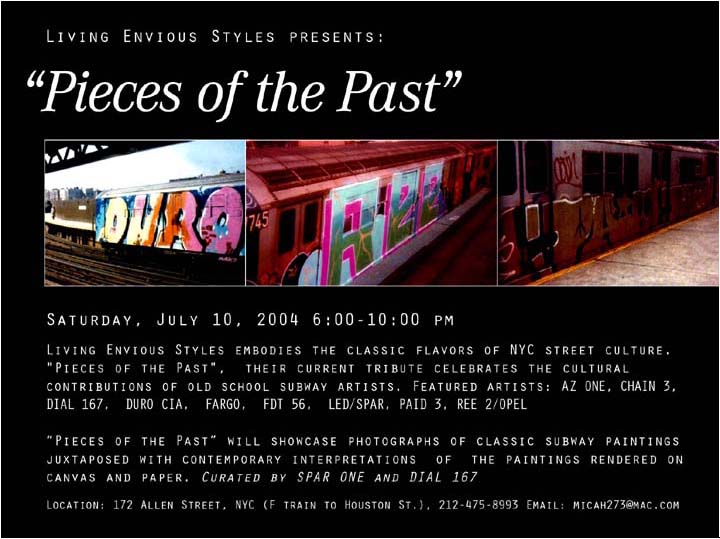 ---
New York City - June 12 - June 30, 2004

HISTORY IN THE MAKING

Opening 7 pm June 12th @: Aurora Gallery/ Wet Paints. 515 W. 29th st. F15 NY,NY.

MUSE, DEMER, PHYME, BEEN 3, LADY PINK, COPE 2, TATS Cru, MAD ONE, CRIME 79, and others...

Produced under the auspices of its Wet Paints division, Aurora will through June 30th display the sprayed, splotched and splattered results of more than 25 artists creative energies. Utilizing its unique vast outdoor annex in the shadows of Chelsea's historic "Highline", The opening celebration will showcase graffiti spin off art forms including live music, break-dancing and spoken word performances. The gallery tapped into locations such as Grand Central Station, Penn Station and Union Square to secure these additional artistic talents, maintaining the underlying theme of giving a voice to their underestimated urban genius. New BET show "The Next" will be on site all day documenting this groundbreaking event to be aired later in the month.

Rios has slated a trilogy series for this summer: "Shut-up and Paint" opens on July 8th to July 29th. The series will feature three artists from New York pushing the limits of technology and providing commentary on pop culture. "Grow-up and paint" showcases thirty emerging artists (August 7th- 31th). A revealing documentation by Victor Bockris and David Schmdlapp of never before exhibited Andy Warhol photo shoot with Mohammed Ali is scheduled to fire-up Aurora's fall season on September 9th- 29th.


---
Brooklyn NY: June 11, 2004

Cliquecalmbooks.com and Nspyouth.org Presents Push's 6th Annual Brooklyn Hip Hop History Celebration 2004

Art, Music and Battles Friday June 11th, Opening Art Reception Saluting 30 years of Subway Art Legends; T.O.P. (The Odd Partners) Crew T.O.P. Crew made Graffiti history in the 1970s by dominating the INDs and BMT subway lines. Artist's statement: "Ultimately use my gifts to get graffiti art in prestigious museums and galleries nationally and internationally"- JAMESTOP, Reception 6pm-9pm Free Featuring: JAMESTOP, DURO, REE MTA, FDT 56, K56, PRIZ,STAN TS5, DAIL 167, JACK 1, PAID 3, MERES, DOMS, KEO JAYRA, KROOK BEM, BRACE, MEEK, SONIC, SAGO, KC ONE, ACEPT
Hosted by spoken word artist Poppy BR> Music by DJ Kwest, King Uprock and The Legendary Pete "DJ" Jones DJ University & DJ Sin of H2k Radio Detroit

Music & Battles

Time: 9pm
Donation $5.

Hosted By Young Supreme & J Crush

Sonya Blade, Buddha Monk of the Brooklyn Zoo, ÒReggae Recording artistÓ KC Jockey , Cozmo D of "Jam On It", Professor X (X Clan), Freedom Williams (C and C Music Factory), Mack Mama and DJ 50 Grand (Notorious B.I.G. DJ), Super Natural, Strafe "Set It Off On The Left", Chic Delevic representing for the late Notorious B.I.G, Mental Supreme, Divine Sounds, DUST 7Ds, Cutmaster DC

Breakdance battle hosted by King Uprock and The Dynasty Rockers, Tron of the Circuit Breakers, Shock A lock, Fast Break, K-won, Cris Cross of the Brooklyn Street Dancers

Break dance competition begins at 10pm sharp

@966 Fulton Street
Brooklyn, NYC
C train to Clinton and Washington Avenues

For further information contact 212.574.0974 / 347.232.3313 or owens@illbrew.com


---
Brooklyn, New York: June 5 - July 1, 2004

ANIT-GRAFF (WEST ONE solo U.S. debut)

Exhibiting a collection of paintings that explore "the secret life of letters."

Influenced by early abstract expressionists and the action painters of the 1950's, this collection features work entirely in black and white and uses raw canvas, oil sticks, gesso, latex, charcoal, and a host of other mediums to create large-scale abstract paintings that preserve only the thread of the letter form commonly seen in graffiti.

Along with a small group of other New York based artists West remains at the forefront of the 'Post- graffiti' movement, exploring new realms and presenting new challenges to the regimented folk art of graffiti.

West's recent exhibitions have included the 'Miami Vices' exhibition during Art Basel in Miami, the 'Hive Sound System' show at Lump Gallery in N.C., the Altoids 'Wall of Fame' project in Brooklyn, and 'Experimental Surf Shop' at the Dyezu Space in Tokyo, Japan. West frequently travels to Japan where his designer clothing brand, And Suns, is sold. He also co-founded PNB Nation, an urban market clothing line in 1992. West currently lives and works in New York City.

McCaig-Welles Gallery in Williamsburg, Brooklyn.
Gallery Hours: Monday -Friday 11-7 pm, Saturday and Sunday 12 -7 pm
Opening Reception: Saturday, June 5, from 6-10 p.m.



---
New York: June 4, 2004

COPE 2 TRUE LEGEND (Show and book signing)

OPENING PARTY June 4th 7pm to 11pm
*After party info to be disclosed at the show
Music by White folks and Wiley
$4 Sake and Japanese beer

For more information:koimarket@aol.com

Koi Gallery
125 Havemeyer street ( btw S1st/Grand)
Williamsburg Brooklyn, NY, USA
L train to Lorimer
J, M or Z train to Marcy Avenue Station

---
New York: May 6 - June 10, 2004

(NEW BOOK) AUTOGRAF: New York City's Graffiti Writers Photographs by Peter Sutherland

The powerHouse Gallery
68 Charlton Street
between Varick and Hudson Streets, New York City

Featuring old-school legends FUTURA, STAY HIGH 149, LADY PINK and DOZE, as well as COPE 2, KAWS, CYCLE, CLAW, VFRESH, KR, EARSNOT, SERF, NATO, NET, RATE, SACER, UFO, SEMZ, 323, and DSENSE, among many others, each one of the fifty-three portraits is authentically tagged by the individual writers using the same paint markers that brought them fame. Autograf is the only photography exhibition to showcase New York City's graffiti scene as it was created and defined by some of the most prolific artists of our time.

Autograf: New York City' Graffiti Writers features 42 four-color and 11 black-and-white 11x14 inch photographs. Although the exhibition prints are not for sale, The powerHouse Gallery will offer made-to-order prints in your choice of 11x14 or 16x20 inch photographs. We offer a full selection of "Un-Autografed" (unsigned by graffiti writers) prints. We are also pleased to announce a special selection of "Autografed" (signed by graffiti writers) prints of LADY PINK, EARSNOT, SERF, MINT, NATO, CLAW, NET, 323, SEMZ, MERZ, and KORN.

Peter Sutherland is a filmmaker and photographer who was born in Ann Arbor, Michigan in 1976 and raised in Colorado. A move to NYC in 1998 prompted his first feature documentary, Pedal, a film about N.Y.C. bike messengers that is currently airing on the Sundance Channel. Sutherland also worked as director of photography on Stoked: The Rise and Fall of Gator, a documentary about Gator, a famous skateboarder who was convicted of murder in 1991. Directed by Helen Stickler, Stoked premiered at the 2003 Sundance Film Festival, and was released theatrically by Palm Pictures in August 2003. Sutherland is a contributing photographer to magazines including i-D, Vice, Tokion, and Nylon and has done commercial photographic work for Nike and Vice Records. He has shown his work at the Rivington Arms gallery and at 255 Elizabeth Space, both in New York. Sutherland lives and works in New York City.
---